When you're newer to vaping or don't vape, it might seem overwhelming to see the variety you have to choose from as a business owner – but don't be intimidated! There are a few key differences between each type of cannabis vaporizer offered by most manufacturers – disposables, pods, and cartridge / battery pairs.
Today we're specifically looking at pod system vapes, and disposable vapes, their key differences and similarities, and the benefits of each type of vaporizer.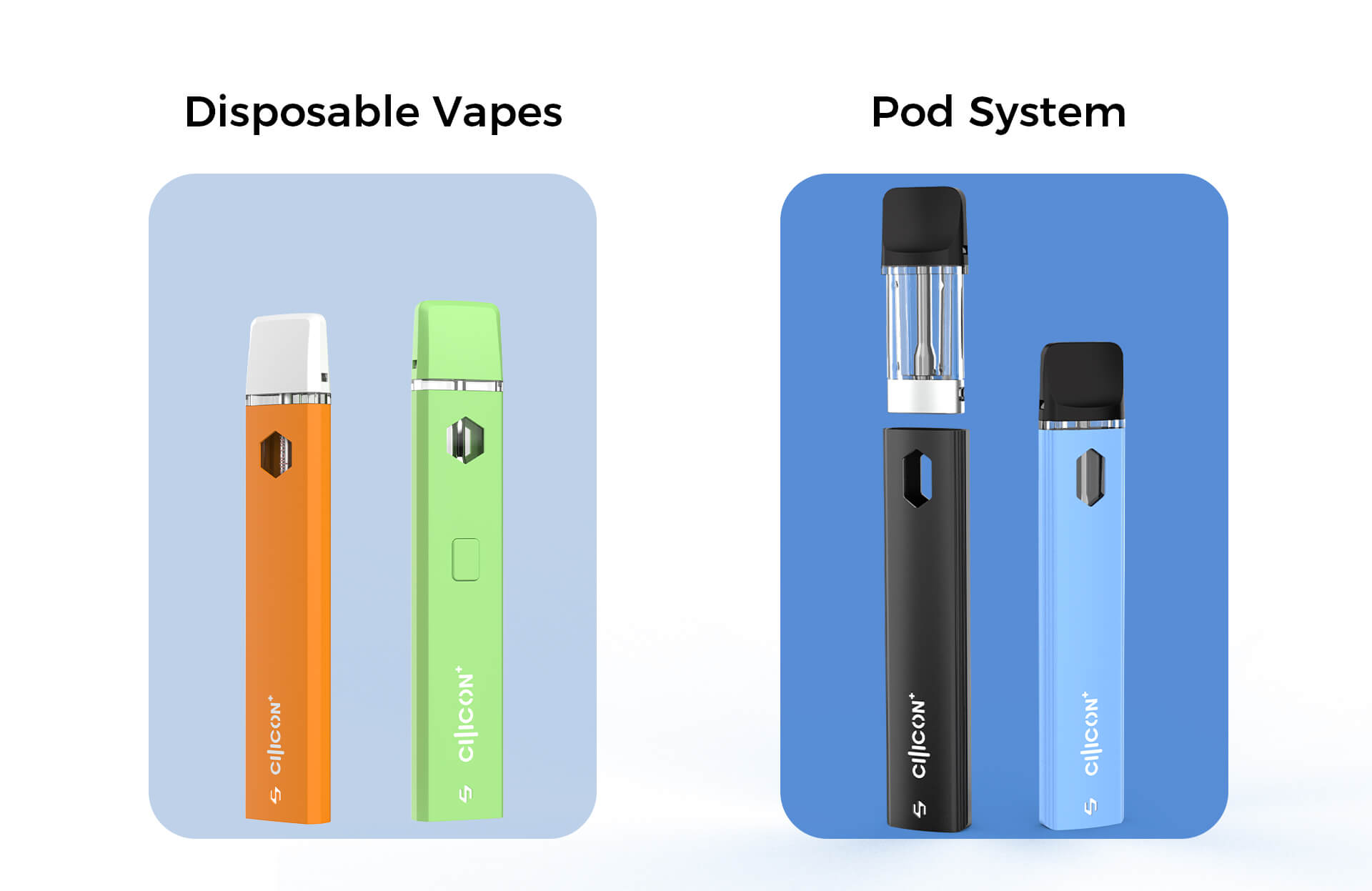 What is the Difference Between Pods and Disposable Vapes?
Pod systems and disposable vapes are both amazing products and each serves a unique purpose. New or occasional consumers often prefer disposable vapes. They're convenient and easy to use. And when they run out you can buy a new one the next time you want one.
However, if you're a regular or medicinal consumer you may end up spending too much on disposables and opt for a pod system or battery that pairs with cartridges that are less expensive than disposable vapes.
Let's look at a few key differences between pod systems and disposable vapes.
Pods Have Multiple Parts and Need Maintaining
One big difference between the two types of vaporizers is the fact that disposables are "all-in-one" systems, while pods have multiple parts and need some basic maintenance to keep them running. Disposable vapes are one-time-use products that work until they run out of oil but pod systems require charging, refilling, and occasionally parts may need to be cleaned or replaced.
Disposables Are Simpler for New Consumers
Generally, new consumers are huge fans of disposable vaporizers, mainly for their ease of use. Most disposables are a simple inhale and exhale, with the heating element initiated by the inhale. Others may require a button to be held on inhaling, but even that is simple enough to figure out. While most pod vapes work the same way, they may have other features (like on/off controls or temperature controls) and will need to charge regularly.
Pros and Cons of Disposable Vapes
Like any product, there are pros and cons to choosing a disposable vaporizer. Many factors come into play such as convenience, personal preference, the strain options available, and much more. But to help you make your decision a little easier, here's a basic list of the pros and cons of disposable vaporizers.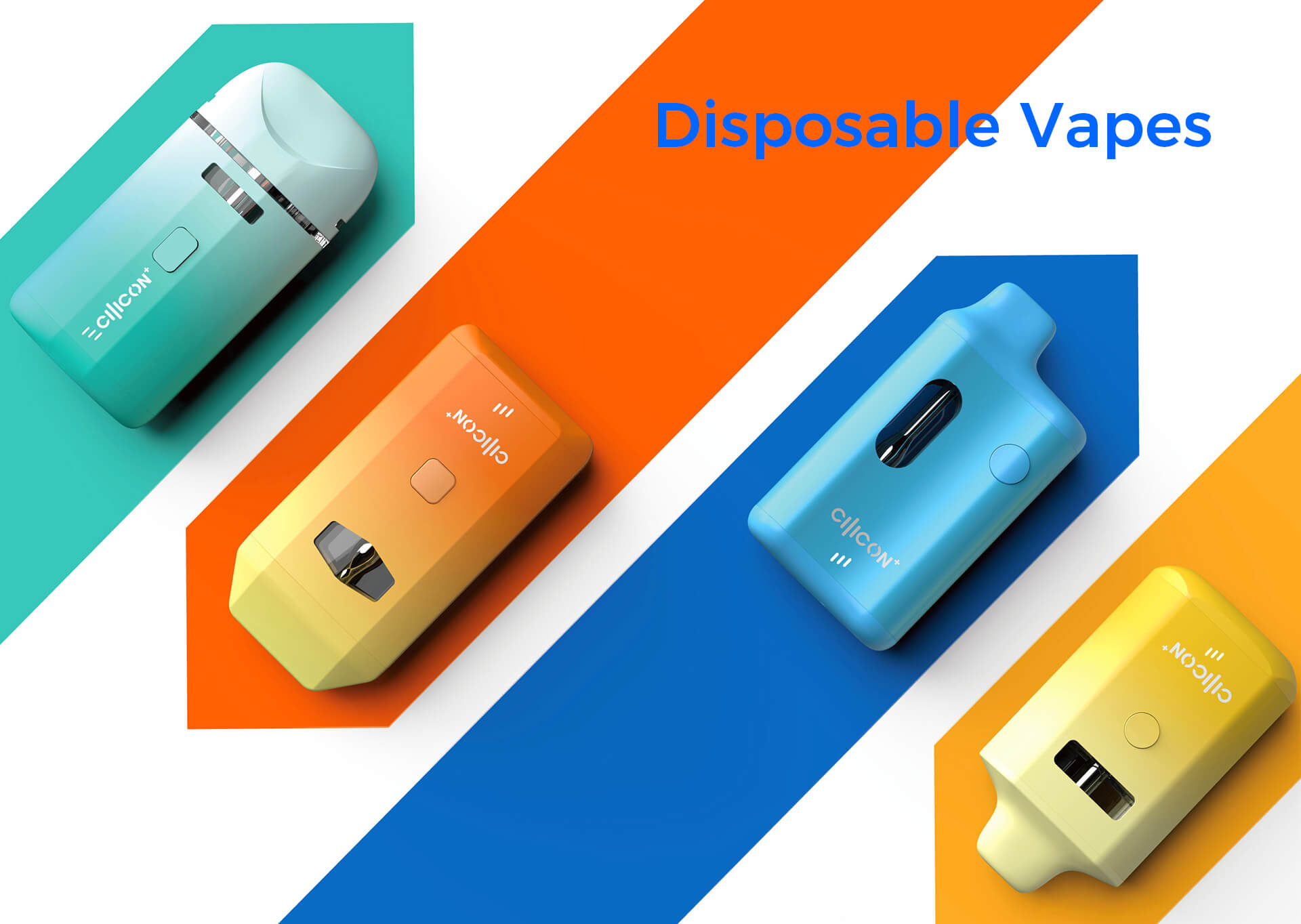 Pros
Convenience – this is one of the main reasons that people choose a disposable vaporizer. There is nothing more convenient than a vape that is ready to use right out of the package.
Simple to use – for consumers of all experience levels from complete newbies to seasoned vapers. Most disposables work automatically on inhale or with the press of a button while inhaling, both of which are very straightforward.
Maintenance – is non-existent with a disposable vape, that's the whole point. You use it until the oil is gone and then throw it away and pick out a new one.
Cons
Environmental waste – is one of the few concerns when it comes to disposable vapes. E-scrap is harder to dispose of than regular waste and doesn't degrade over time. And if you're not the best about getting these sorts of things into the waste basket then it becomes clutter on your desk, dresser, coffee table, or in your car.
Increased costs over time – are one of the reasons that many people turn to a more long-term option of pods or cartridge and battery combos if they decide to vape regularly. As with anything, you usually end up paying more for convenience.
Pros and Cons of Pod System Vapes
Now that we've looked at the pros and cons of choosing a disposable vape, let's look at the pros and cons of choosing a pod system instead. Pod system vapes are preferred by regular consumers who want something that is still convenient and easy-to-use – but also something cost-effective for daily use and provides a variety of oil options.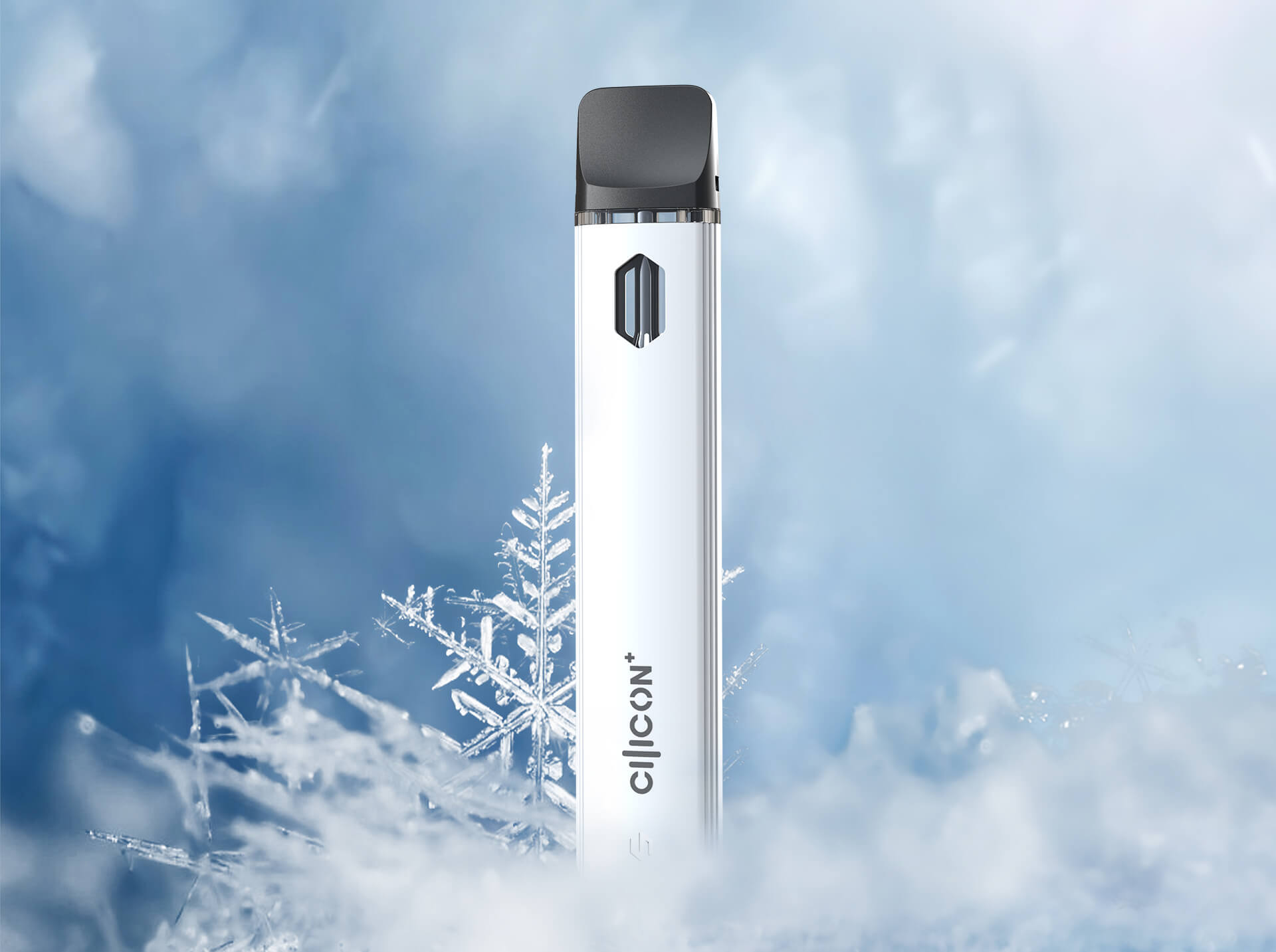 Pros
Cost-effective – for regular consumers, this is second to refillable because pods and cartridges are usually much less expensive than a disposable vaporizer.
Customizable – for those who want a little more personalization to their experience, pods will sometimes offer additional features like temperature control, which allows more control over both the vapor itself and the effects that you experience.
Cons
Maintenance – is something that may or may not be an issue, depending on your habits and ability to keep up with things. Pods are not the most maintenance-heavy of the vaporizer options – but you will need to keep it charged regularly, change out the pods when they are used up, and possibly need to clean out the connections occasionally to keep them in top working order.
Why Your Brand Should Offer Multiple Vape Options
When it comes to deciding which type of vaporizer you should offer in your store, the answer is a little more complicated than just one style of vape. Each type of vaporizer is designed to serve a unique purpose – and so your dispensary or vaping accessories shop would benefit from selling both disposable and pod system vaporizers rather than selling just one or the other.
As we've discussed throughout this article, new and occasional consumers are likely to choose a disposable, prefilled vape. This allows them the simplicity of just picking a strain and vaping, rather than messing with charging, figuring out controls, and switching out cartridges.
On the other hand, a regular consumer who vapes daily is more likely to choose a more lasting option – like a pod system or 510 battery. The main reason for most choosing this option is the savings it offers by purchasing just the pods or cartridges in the future and opens you up to a variety of strains you likely won't have access to in the disposable form.
However, it's also good to note that even regular consumers will choose a disposable from time to time – for an exclusive strain they can't get in a cartridge or pod yet, or while traveling from state to state for example. Similarly, many continue to purchase disposables regardless of the price simply for convenience.
If your brand sells cannabis vaporizers, you really can't go wrong with offering a variety of options to fit the needs of individual consumers. By selling just one or the other you are missing out on tons of revenue options. Speaking of revenue, if you sell vaporizers and don't have company-branded vapes, you're missing out on yet another income stream.
Cilicon Is Your One-Stop-Shop for Disposable and Pod System Vapes
Choosing the right vaporizer manufacturer to represent your brand can be difficult – but Cilicon is prepared to be your one-stop-shop for high-end, customizable disposable vapes, pod systems, and 510 cartridge and battery combos.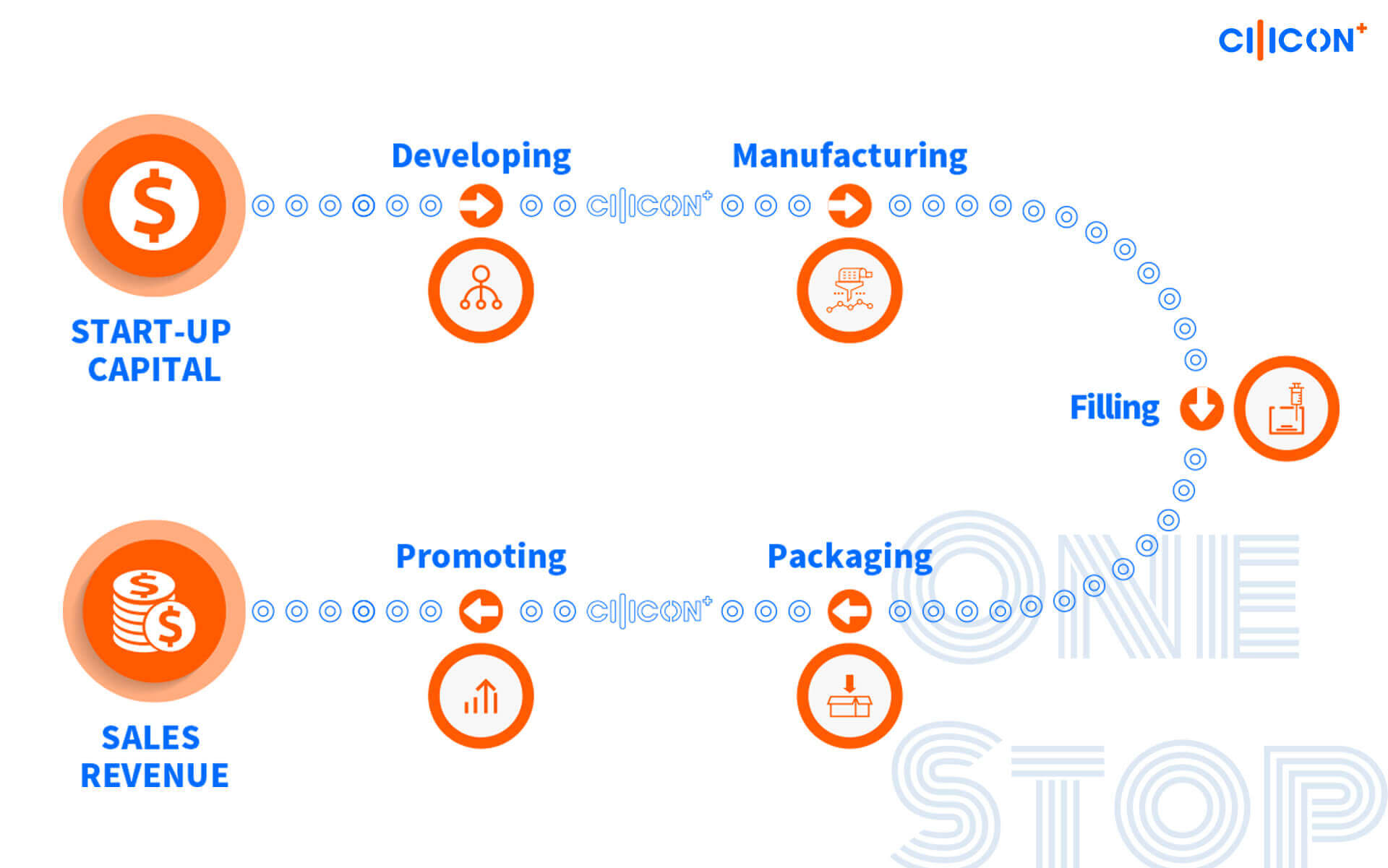 Unique and Innovative Tech
Cilicon is an industry leader when it comes to innovative vaporizer technology – with patented designs and tech you just can't find anywhere else.
ReoreginTM technology uses an exclusive mesh heating coil matched with ceramic with the perfect porosity to allow all the terpenes and flavonoids to be retained when the cannabis is vaporized.
Oil IsolationTM technology is a breakthrough that separates the cannabis oil inlet from the oil tank, sealing the device and preventing oil from leaking in the filling process.
BioBaleenTM technology mimics the baleen that allows some whales to filter-feed and uses the same concept to prevent harmful substances from being inhaled with the desired vapor.
DuairTM technology improves airflow and was created to solve the cannabis oil clogging issue that many vape users are familiar with. It works by separating the atomizing channel and the breathing-actuated channel to prevent clogs.
SpacexfillTM technology is designed specifically to improve the efficiency of filling oil cartridges and works by sealing the silicone plug with the fixated mouthpiece, essentially a new way to fill the oil and prevent leaking around the filling area, leading to less wasted product.
VshapedTM designs are unique to Cilicon vapes and were made to support gravity and create a smooth oil flow intake, even when the cartridge or tank is almost empty. This leads to no residue or wasted oil being left behind unable to be vaped.
When it comes to disposable vapes and pod systems, Cilicon is prepared with a variety of options for you to choose from. The SOLO series is the most popular of the disposable lines right now – but it is only one of five available options for disposable vaporizer lines. The FLARE pod system is also growing in popularity as pods become more common.
Customization Solutions
All Cilicon vapes offer our exclusive technology – but we offer more than high-end vaporizers at a reasonable price. If you have a design in mind, we can help you make it a reality, allowing you to offer your customers your ideal vaporizer.
Have an idea for a custom line of disposables unique to your brand? Want to offer a top-of-the-line pod system or cartridge and battery option in your dispensaries? Cilicon has got you covered, with customization from the overall look and design to the performance of the vape itself.
The Cilicon Customization Solution is the perfect option for brands that want to offer top-quality vaporizer products at a reasonable price. Create the perfect disposable, pod system, or battery – and outfit it with your brand's logo before stocking your shelves.
Help from Your Personal Team
Offering a customized vape product to your customers doesn't have to be stressful – even if you know nothing about vaporizers other than what you've read in this article. Cilicon has professionals who are prepared to help you every step of the way, from initial consultation to the final product. One of the benefits of the Cilicon Customization Solution is a personalized team to walk you through every step of the process.
Unlike some companies, Cilicon won't just sell you a product and send you on your way either. We are in this for the long haul, just like you are. And we prove it by following up with you post-launch of your new vaporizers, to see how we can help you improve the product. We are dedicated to your success – and are on standby to ramp up production when your brand hits it big.
If you've been looking for a manufacturer of disposable or pod system vaporizers, Cilicon is an industry leader that can keep you ahead of your competitors by offering the latest exclusive technology with your brand's logo on it. Contact us today to learn more about the Cilicon Customization Solution, where a personalized team is ready to help you create a vaporizer that will propel your brand to the next level.