With its stylish and user-friendly design, the vape pod system is becoming the preferred vaping practice for weed users to enjoy their cannabis. Statistically, the sales volume of vape pods within the six states of the United States increased from 32 million USD in July 2020 to 45 million USD in December 2021. At the same period, the percentages for weed vape pods in the weed vaporizer manufacturing industry also grow from 16% to 22% (Figure 1).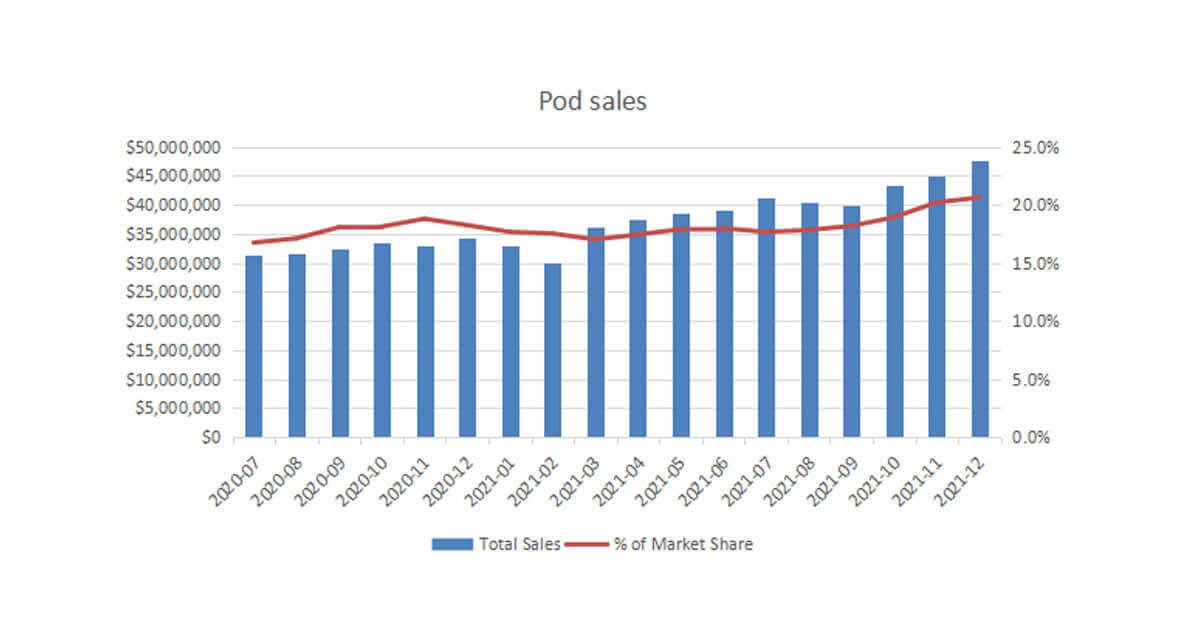 Sales and Market Share of Pod System
Certainly, there is an apparent growing demand for vape pod systems compared to other weed vaporizers in the market. The growth attracts both consumers and retailers to use and sell the vape pod system. As one of the cannabis users and retailers, you may ponder the available brands for the cannabis pod and where you can find the best pod vape in the cannabis market that is a high quality yet economical. Now, let's dive into the business to help you find out the accurate metrics and aspects in evaluating a high-quality pod system from both consumer and retailer's perspectives!
What Is a Pod System Vape and Why Do People Love It? 
The pod system vape is a small device consisting of two main parts, an oil pod tank the vape oil such as THC or CBD cannabis oil and a battery acting as a power source to vaporize the vape oil. Distinguished vape pod cartridge designs and battery voltages are produced and used to vape different THC or CBD cannabis oils, distillates, and vape oil. Thanks to the pod system's portability, diversity, vast brands, and developing markets, people love to use the devices for their cannabis vaping experiences.
#1 Pod System Concept
The pod system comes in a compact design with a separate oil cartridge. It is extremely user-friendly due to its simple operation mechanism. As most vape pod battery is draw-activated, users inhale the vapor at the mouthpiece to activate the battery to vapor the THC or CBD cannabis oil inside the vaping cartridge without turning it on or off. Basically, the battery only needs to be connected to the vape pod system when you want to vape. The easy and convenient functionality of pod system surely has attracted many cannabis consumers to try the products.
#2 Pod System Types and Capacities
The fundamental classification of a pod system is based on the connector that the pod cartridge applies. The most common connector styles of a pod cartridge is magnetic connection. Unlike the 510 cartridge with the screw-on mechanism, the pod cartridge is magnetically designed and inserted directly into the connection port of the battery. While the 510 cartridge often comes in a cylinder shape, the pod cartridge is usually boxed or rectangular.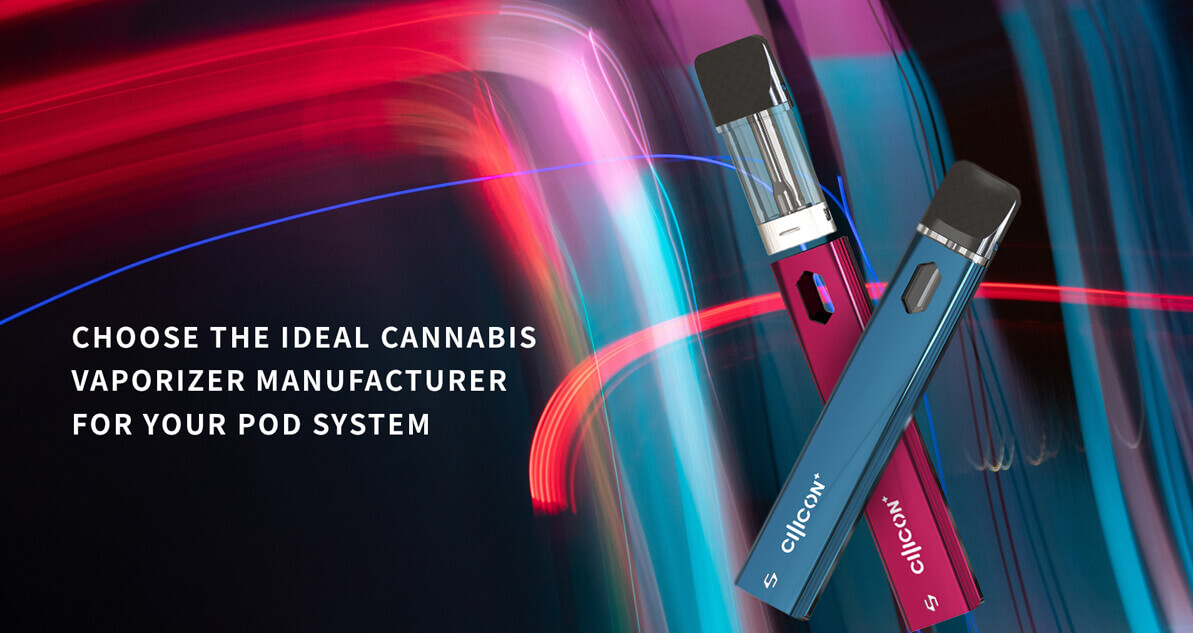 Pod Cartridge
Lastly, the weed vaporizer tank's capacity is another significant factor in classifying different pod system types. Most of the standardized oil tank for weed vaporizer devices is either 0.5g or 1g. Yet,vaporizer manufacturers are forced to offer more size selections to meet the demands of customization and compatibility of a variety of THC and CBD cannabis substances, resulting in 0.25g, 0.3g, or 0.8g oil tank capacities existing in the market. However, those are not mainstream because 60% of the best cannabis pod vaporizers have a capacity of 1g and another 38% is for the 0.5g pod vape systems.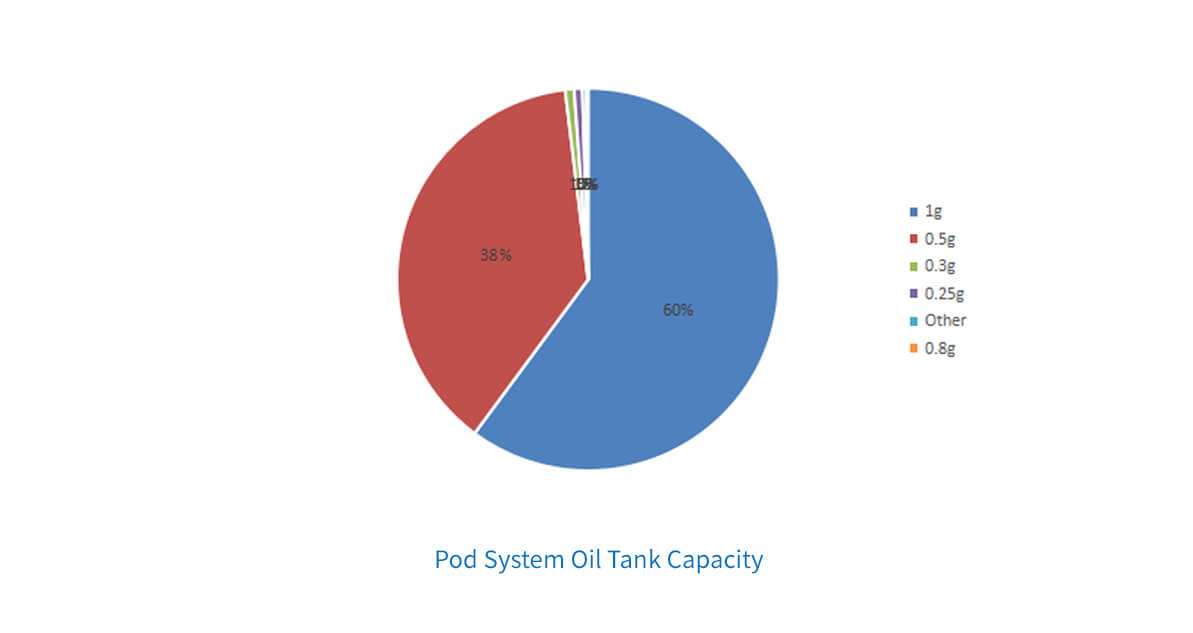 Pod System Oil Tank Capacity
The pod system is available in standardized and diverse features that can satisfy as many demands and expectations for cannabis consumers regardless of their demographic, making it the trendiest vaporizer in the cannabis market.
#3 Which Pod System's Brand Is the Best? 
Many prominent brands for pod systems are available in the market advertised by vaporizer retailers for cannabis consumers to come across different vaping experiences. If you are a beginner who likes popular and mainstream pod brands, you could select Stiiizy, which occupies the largest market share of 69% in the United States. For hard-core vapers who prefer customized cannabis pods, you could choose other niche brands such as Plug Play, Pax, Airopro that respectively account for much fewer market shares of 10%, 8%, and 7% .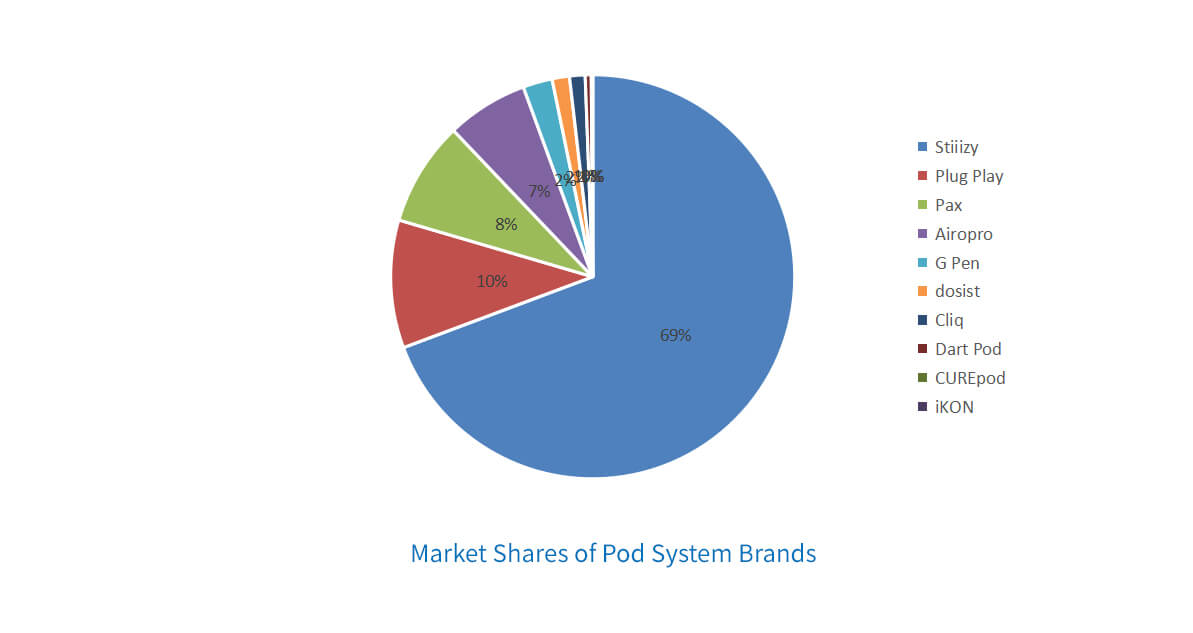 Market Shares of Pod Brands
What Are the Market Shares of Pod System?
It is feasible for anyone who is 21 or older to purchase a weed vape pod due to cannabis legalization and decriminalization status across the United States, setting it in a grey area zone. In the meantime, 18 U.S states have legalized cannabis for medical or recreational use: Alaska, Arizona, Colorado, Washington, Oregon, Maine, Washington D.C, Nevada, Massachusetts, Vermont, Guam, Montana, Illinois, New York, Connecticut, New Jersey, and New Mexico (Hansen, Alas, and Davis 2). Each state consists of different marijuana policies due to legalization status differences in marijuana production, possession, and the tax applied for cannabis retailers, influencing its sales. The below figure demonstrates the current market of pod systems in several U.S states.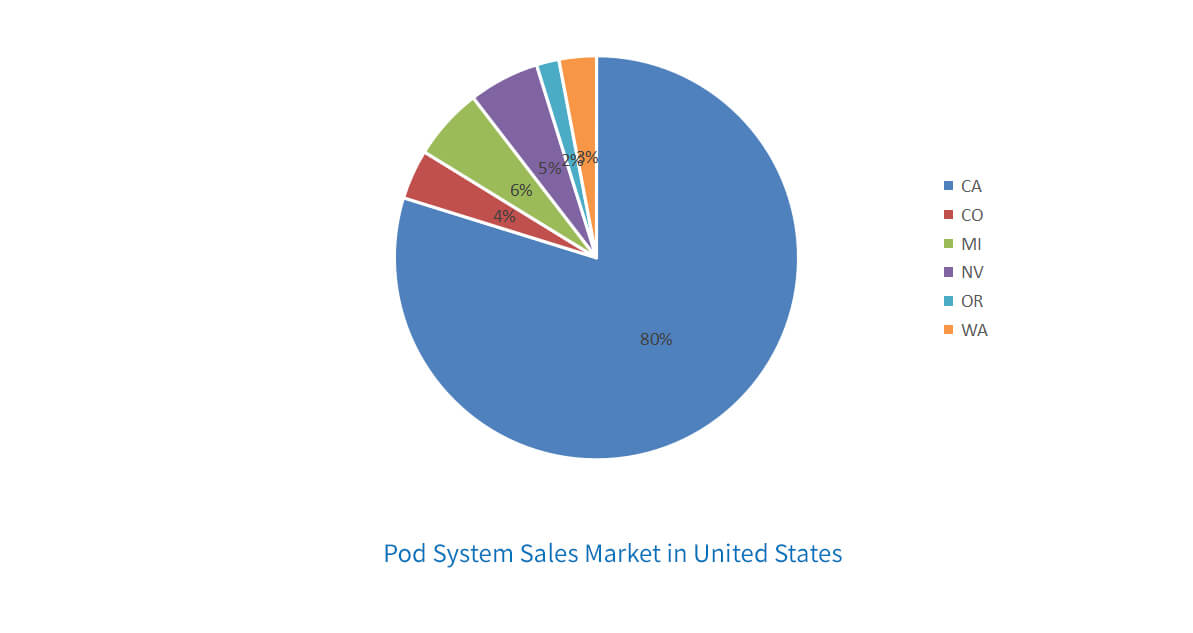 Pod System Sales Market in United States
Currently, California is the most dominant market in selling weed vape pods amongst other states in America, as that sole region achieved a record of 80% of pod sales. Other state markets are niche and cap with 6%, 4%, and 5% sales proportions. These numbers are never static and will change as the legalization of cannabis and acceptance rate increases parallelly raises the sales of cannabis vaporizers such as pod systems. Vaporizer retailers should be ready for this bullish market and expect weed vape pods to be sold more than ever soon!
How to Choose a Credible Vape Pod Manufacturer?
#1 Manufacturing Credibility
Pod product's success should not only be evaluated based on the vape device's performance. The reliability and success of a vaporizer manufacturer should entail assessments ranging from different scenarios. When a manufacturing defect happens to the ceramic heating core, the oil absorption rate will be affected. If the microporous ceramic core is unable to absorb the cannabis oil equal to or faster than the vaping speed, it will lead to oil leakage at the bottom of the metal holder and ultimately lead to a poor vaping experience. Thus, it is essential to have a vape device with an even absorption rate utilizing the entire surface of the ceramic core, producing a uniform heat dispersion when vaping.
Cannabis vaporizer retailers may encounter oil leakage or inoperative vape device upon goods received. This incident happens when the silicon cap is not tightly sealed, increasing the possibility of oil leakage resulting in oil wastage. Another incident is when the pod is poorly connected from the battery during the assembling process, or a collision happens in the transit process between products when dispatched from production to the retailer's outlet. This could be due to poor SOP manufacturing practices and a lack of quality control during the production and logistic process.
In addition to logistic issues, the oil leakage problem in a cannabis vaporizer remains impending even after the oil filling process completes. A conventional cannabis pod vaporizer often has oil leakage issues during the cartridge oil filling process. The cannabis vaporizer's oil intake hole is generally smaller and has direct contact with the oil tank. As the oil filling process commences, the injected cannabis oil may leak through any existing opening, including the oil intake hole. Assemblers need to finish the capping process as fast as 3 to 5 minutes before the oil starts gurgling when the oil inlet reacts with the air resulting in oil leakage. Due to the short assembly time that seals the mouthpiece to the oil cartridge, retailers may face more errors unless more operators are being arranged during the capping process. This creates inconvenience and uncertainties to retailers resulting in high labor costs and risk to vaporizer retailers. Thus, it is essential to only collaborate with vaporizer manufacturers who have the technology to minimize oil leakage incidents, giving you the best high-quality cannabis pod for sale.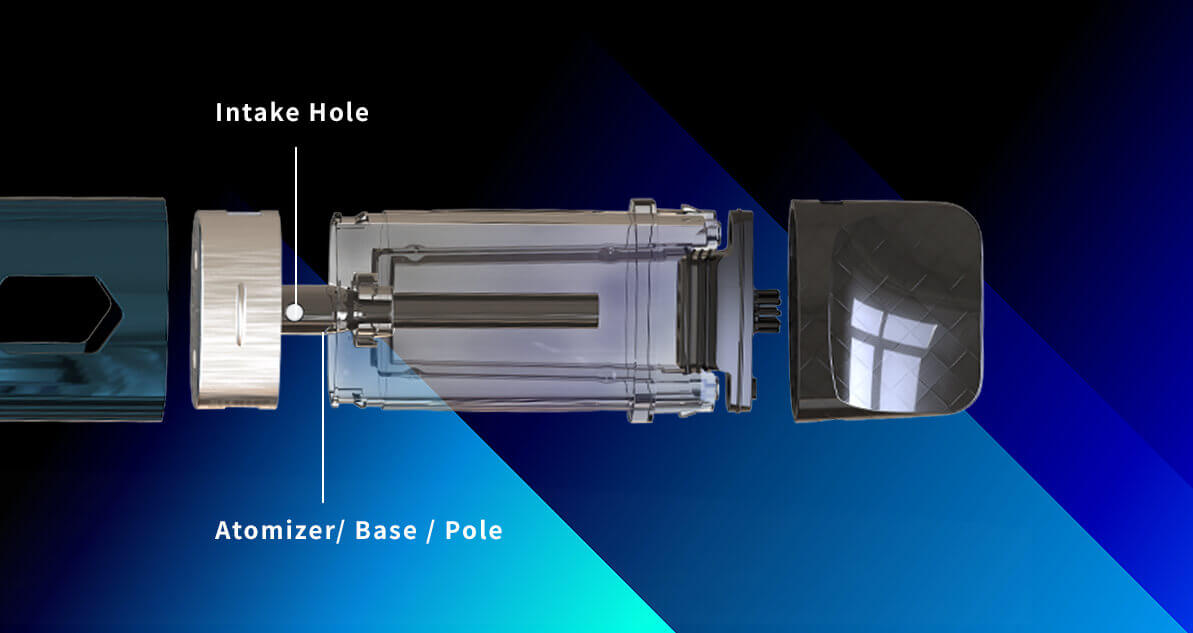 Pod Cartridge Design
#2 Health and Safety Standard  
Cannabis users want to vape on a quality vaporizer and a vape device that can meet health safety standards. Materials and components used to produce vaporizers should be extremely selective and meet the food safety standard. For instance, wick is an ingredient that can easily be overheated and burnt, resulting in awful taste and inconsistent vapor's density. Heavy metal is the following material to replace wick, and has a higher dissolution temperature than the wick. But, it poses many risks to cannabis consumers' health. Many research and testing results prove that excessive metals can damage organs such as the brain, kidney, lungs, liver, and blood. As a result, Cilicon® selected ceramic as the heating core and paired it with an Alchrome (Iron-Chromium-Aluminum) FeCrAl electric resistance heating coil that meets the standard food safety to ensure you can vape at ease. It can withstand high-temperature dissolution, 1200°C high sintering undergone 20000+ various tests, proving its success in even heat distribution and cost-saving ability. It is safe for health and high-temperature endurable to create consistent vapor and maintain the taste for the THC and CBD cannabis oil. Ceramic is also compatible with any batteries within a pod system from 3.2 to 4.8 volts. Cannabis vaporizer retailers should take the health aspect as one of the criteria in vape device production.
#3 Product Differentiation 
An ideal pod manufacturer should have multi-dimensional thinking, design, production, and supply chain management capabilities, to create innovative and diversified cannabis pods that can meet different needs of cannabis vapers. Product diversity could satisfy any cannabis users as they could mix & match their pod system to create flawless yet reasonable products in the economical price range. Several criteria determining whether a cannabis pod manufacturer could offer a wide range of cannabis vaporizer's product mix are as follows:
•Pod-system product consists of pod and battery. They are formed into an integrated device by magnetic attraction. It requires high ability of making product accessory and structural design for manufacture. Only with superior accessory manufacturing capability can we provide customer with high quality, stable and powerful pod-system products.
•Product Line: Cannabis consumers and retailers should select a manufacturer who could produce a wide range of product lines for both novices to hard-core cannabis consumers. Vast distribution channel reflects a manufacturer's prosperous resources, competency, and ability to produce a high-quality pod system.
•Product Consistency: It is important to choose a cannabis device from a brand that is innovative yet consistent in design and technology so that cannabis smokers not only get attractive quickly but also easily get used to the pod-system product and further feel the charm of the pod product.
Refer to: Everything You Need to Know Before Launching the Pod System
Cilicon® for a One-Stop solution! 
There might be too many metrics to consider when choosing the best pod system vaporizer manufacturer. Worry not, Cilicon® is here to provide a one-stop solution for cannabis vaporizers consumers and retailers who seek exquisite cannabis vaping experiences. Cilicon® incorporates the most advanced technologies, standard food-certified safety materials, and diverse designs to meet the vaping demands for various product lines. Cilicon's pod-system device of FLARE X Series has brilliant design, powerful performance and thoughtful user orientation. Whether you are a beginner or an experienced user, Flare X Pod-system is the best carriers for your precious cannabis oil, helping consumers to easily get fashionable, customized pod systems and distinguished vaporing experiences. Cannabis vaporizer retailers interested in selling Cilicon's pod system can have a similar or variety of designs depending on your budget and preferences.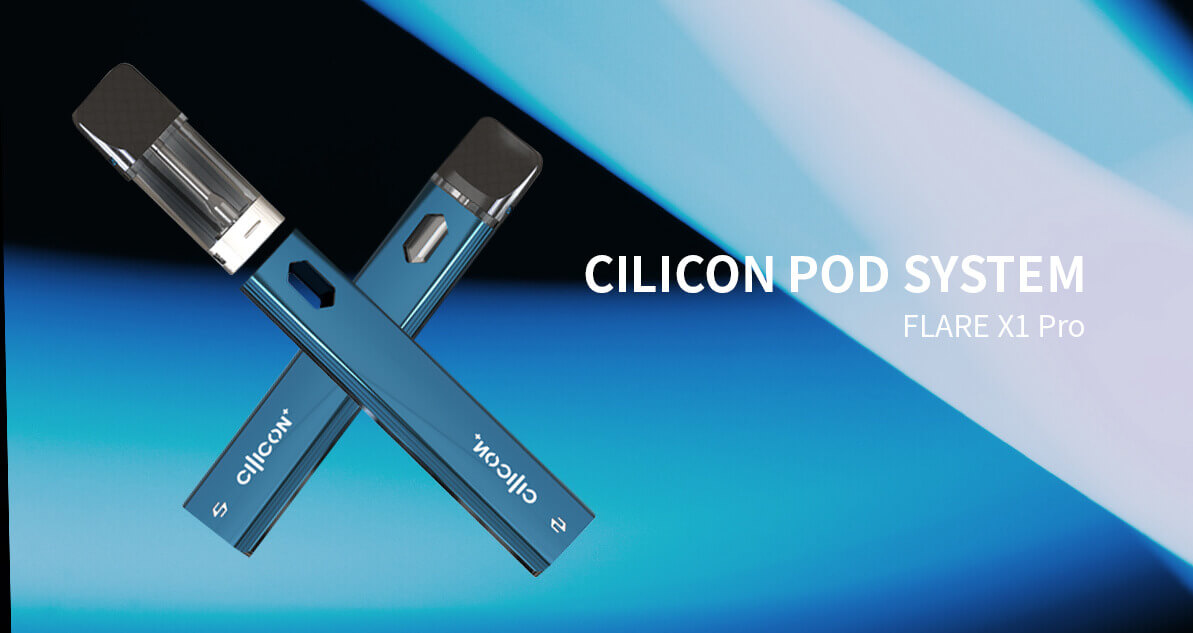 Cilicon Pod Cartridge
With CILICON DESIGNEDTM program demonstrates the future of cannabis vaping personalization is possible even with the latest vape solutions to keep your business customers on the leading edge. If you are a cannabis vaporizer retailer startup lacking R&D support and fund lead in technology exposure, CILICON DESIGNEDTM is the ideal platform for vaporizer retailers to gain exclusive product insights with trial samples using minimal capital investment, receiving the best cost-effective solution in return, mitigating a startup barrier for your vaporizer business in the market. It comprises professional team members with different skillsets and expertise, ensuring every client's consulting journey involves the most integrated products and creative industrial design. Our team is not limited to creating technology moat but is also open to analyzing marketing trends. Once clients have decided to work with Cilicon®, the team expertise coupled with industrial-leading technology distinct themselves from others in the industry, showcasing the most innovative products will support them to outrun the competitors in the market. They are not only working with a sole cannabis vaping manufacturer but a team of intelligent professionals to create astonishing products!