We have previously discussed the common mechanical process behind cannabis vaporizers: Cannabis-related substance (flower or concentrates) is heated to a high enough temperature that the cannabinoids and terpenes are turned into vapor, though not high enough that the substance is combusted.  Increasingly preferred as a cannabis consumption method, vaping activates more of the beneficial compounds while reducing the risks associated with smoking.  Not all cannabis vaporizers are created equal, however.  There are several types of cannabis vaporizers, such as desktop cannabis vaporizers, portable cannabis vaporizer, cannabis vape pens, each with their own benefits, and those interested in vaping cannabis (or those already vaping) should know what each type provides in order to make the best decision.
Desktop/Tabletop Cannabis Vaporizers
Desktop cannabis vaporizers are stationary, requiring a solid surface like a desk or table for it to sit and usually plug into a power outlet. They usually use convection heating, with a heating element that heats the flower or concentrates and extracts the cannabinoids in the vapor.  They usually include a temperature dial that lets users choose the appropriate temperature, as well as self-contained heating elements. Some desktop cannabis vaporizers use a tube-like mouthpiece attachment through which the vapor can be inhaled directly.  Others use a vaporizer bag to collect the vapor, which is then detached when the user is ready to inhale from it. Desktop cannabis vaporizers can provide a very intense experience and some of the most advanced technology, with some cannabis devices offering incredibly accurate temperature control.
Desktop Cannabis Vaporizers are for you if you:
Like the versatility of vaporizing flower, concentrates, or any cannabis substances in one device
Prefer vaping in the comfort of your home and do not require much mobility
Want the most precise temperature control available
Portable Cannabis Vaporizers
Portable cannabis vaporizers are the smaller, portable version of desktop vaporizers, and commonly used with flowers or dry herbs, although some also accommodate wax concentrates.  They have a rechargeable battery connected to an internal heating element to heat up the cannabis to produce the cannabinoid-laced vapor.  Some have temperature control dials or buttons, although they usually do not work as precisely as desktop cannabis vaporizers, while others operate at a single, fixed temperature.
Portable Cannabis Vaporizers are for you if you:
Would like something easy to use and portable, but still versatile
Prefer a reusable device to reduce packaging waste
Want something discreet and low odor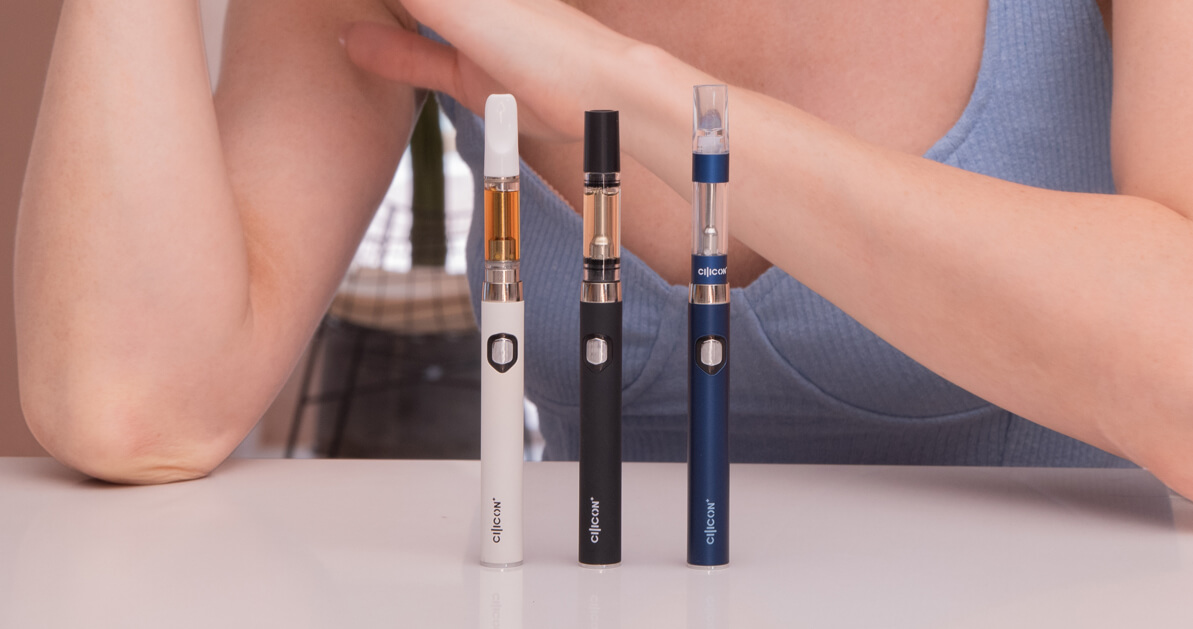 Cannabis Vape Pens
Cannabis vape pens, weed pens, and cannabis oil pens are different type of portable cannabis vaporizers which are designed for use with cannabis distillates, oils, and other liquid concentrates.  They are referred to as "pens" because they usually look like traditional writing pens in size and/or shape.  They typically consist of a battery and a cartridge.  The battery come in a variety of shapes like cylindrical or rectangular, with a button or no button (so the user just needs to inhale to activate it), different lengths of battery life, and the ability to recharge, to suit the users' personal preferences.  The cartridge is made up of the mouthpiece, Central Tube, Oil Tank and Heating Ceramic, and there are similarly different variations.  Some cannabis vape pens use sealed, single-use, disposable cartridges, which are easier to use and avoids the hassle of loading or unloading concentrates.  Others use a refillable tank which allows for greater customization and reduces waste.  They are generally smaller and lighter than portable cannabis vaporizers.
Cannabis Vape Pens are for you if you:
Want the smallest, lightest and most discreet vaporizing device for maximum portability
Would like something more affordable
Prefer something convenient and smaller-dose for personal use
So now you can make an informed decision on which cannabis vaporizing device based on your personal needs.  Of course, for cannabis enthusiasts who will be vaping regularly, a combination of different types of cannabis devices might be the ideal solution.  You can have a desktop cannabis vaporizer for your relaxed, more intense experience at home while keeping a cannabis vape pen in your bag for discreet use on-the-go, there are endless possibilities.