As cannabis has been legalized since 2018 the United States, cannabis products have gained much popularity among consumers. Cannabis users have different methods of consuming cannabis. Some include consuming cannabis in gummy form, cigarettes (smoking pot), dab rig, and a vaporizer. One of the most preferred consumption methods is cannabis vaping because of how it provides the consumer's practicality and discreetness. It is practical because the cannabis vape device is extremely user-friendly. Most cannabis vaporizers can be activated by pressing a button or directly inhaling through the mouthpiece. Meanwhile, the discreetness of a cannabis vaporizer is attributed to how it often comes in a small size, that also improves its portability and convenience in use.
Cannabis vaporizers work by radiating heat from their heating core to turn the cannabis inside the oil tank into vapor. This cannabis can be in the form of dry herb, extracts with higher viscosity or cannabis oil. Aside from sourcing a premium material, a cannabis vaporizer manufacturer should know how to appropriately assemble a cannabis vape device. One of the crucial operations during the assembly stage is the cannabis oil filling process, which can be done manually through hand filling by the operators. However, many cannabis vaporizer manufacturers nowadays usually partner with cannabis oil filling machine providers to achieve a more effective filling process. Not to mention, it is also likely to reduce erroneous processes.
Now that we know the importance of the cannabis oil filling process, Cilicon is here to curate the popular 4 American cannabis oil filling machine providers that you may consider as your manufacturing partner.
1. Vape-Jet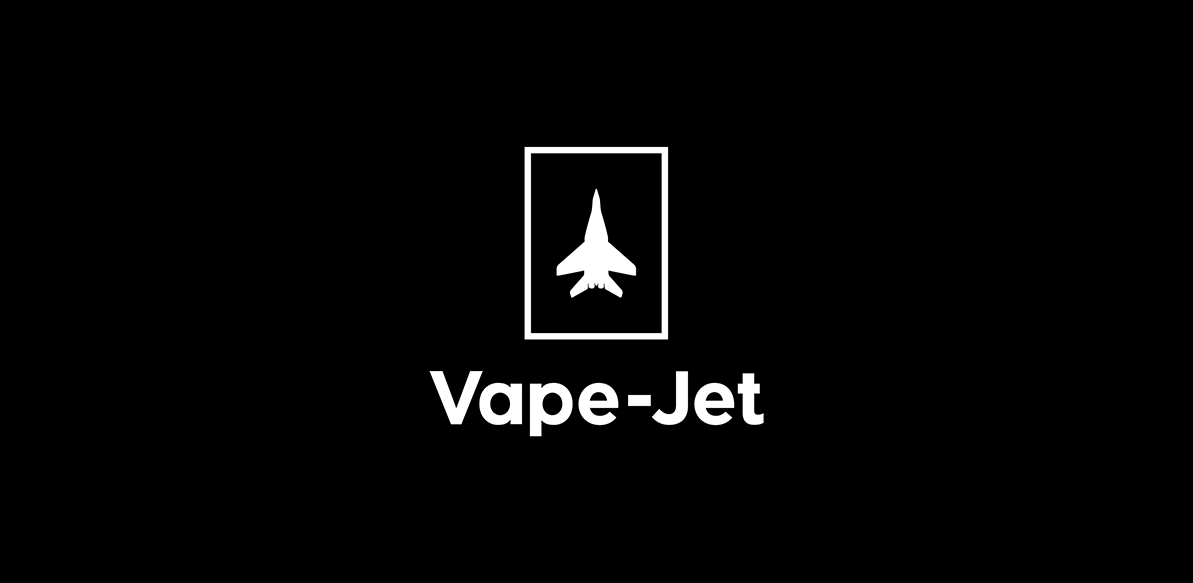 1.1 General Information
Vape-Jet manufactures and distributes hand-built automated filling machines throughout the United States and Canada. This manufacturer is also expanding to Puerto Rico, Columbia, and Japan. Allocating up to 10% of their budget on R&D efforts makes Vape-Jet one of the most innovative oil-filling machine manufacturers. Vape-Jet continually come up with new ideas by focusing on data collection to obtain information on the repetitive process that can be automated to improve production efficiency.
Year of establishment: 2018
Location: Portland, Oregon
Number of employees:  20+ employees
Size of facility: 5,000 square foot
Awards:
  –One of Oregon's 25 Most Innovative Machine Learning Startups & Companies
  –One of the 101 Best Cannabis Startups of 2020
1.2 Products
1.2.1 Vape-Jet 4.0 Fully Automatic Cartridge Filling Machine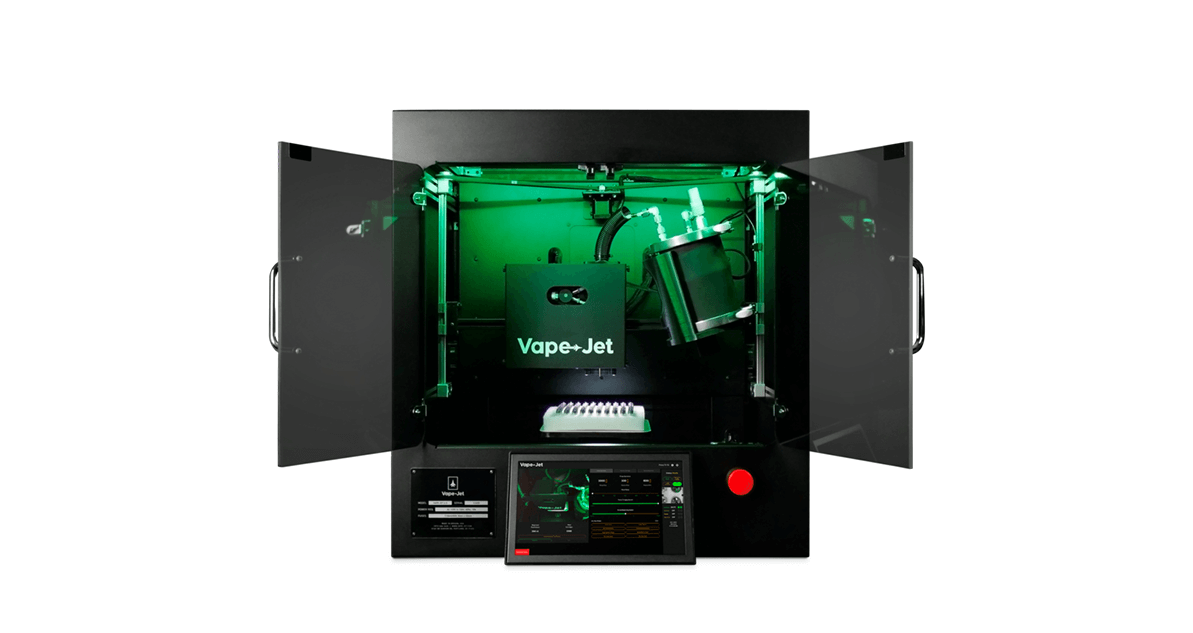 The output per 8h shift is 5,000-10,000 cartridges.
The machine is designed to handle cannabis oil with a wide range of viscosity oil and terpene percentage.
Achieve the lowest labor inputs needed for any filling machine on the market.
This machine produces the least carbon footprints for its class.
Achieve +/- 0.25% product filling accuracy.
Some of the machine's notable features: 
Machine Vision Alignment technology that works by analyzing the entire tray and align the needle to fill directly into tray, without any jig. This technology identifies and skips over damaged cartridges.
Built-in touch screen and intuitive software-based control panel The machine's software is comprehensive, can record data, trace batch deployment, and has remote access and operation via internet.
Pharmaceutical-grade pump with a nitrogen-pressurized fluid path that can dispense 0.001ml and 5.0ml of product.
Precise temperature control with three individually programmable heat zones.
1.2.2 Jet Fueler 2.0 Semi-Automatic Cartridge Filling Machine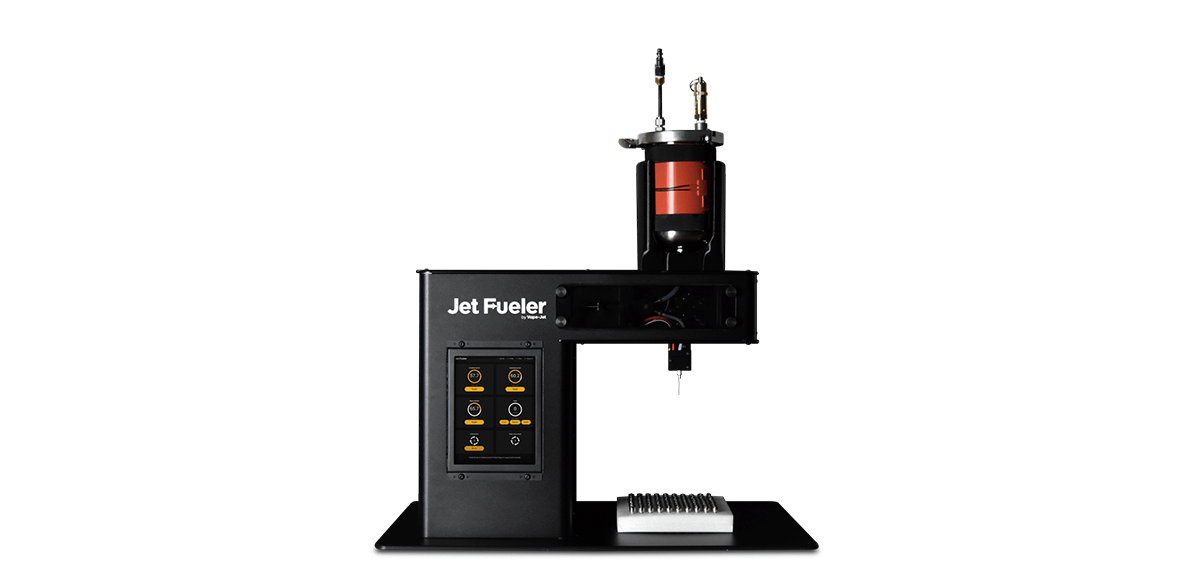 The output per 8h shift is 4,000-8,000 cartridges.
The machine is designed to handle cannabis oil with a wide range of viscosity oil and terpene percentage.
Achieve +/- 0.25% product filling accuracy.
This semi-automated filling machine features: 
Pharmaceutical-grade pump with a nitrogen-pressurized fluid path that can dispense 0.001ml and 5.0ml of product.
Precise temperature control with three individually programmable heat zones
Built-in touchscreen control panel.
Foot pedal-actuator
1.2.3 Squish-o-Matic 1000 Cartridge Capping Machine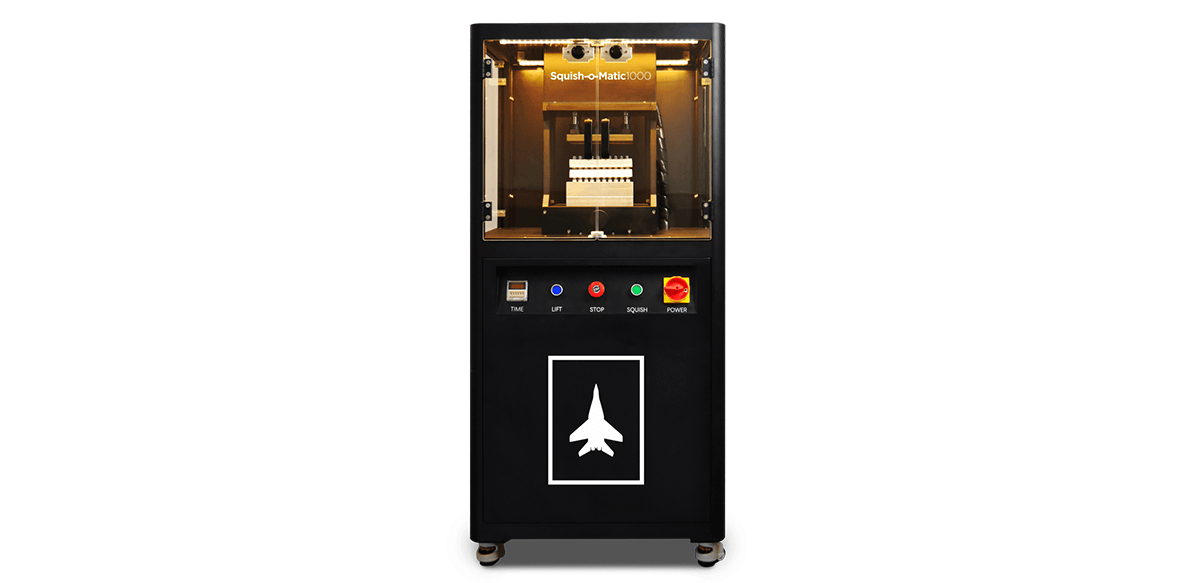 The output per hour is 3,000 cartridges.
Utilizes hydraulic press for press-fit mouthpieces.
Features: 
Direct to tray capping
Fully enclosed environment
Built with durable construction
1.3 Unique Selling Points
Vape-Jet's filling machines are suitable to fill a wide range of products, including cartridges, pods, disposables, capsules, syringes, sauce jars, and so on.
Achieve the lowest operating temperature of up to 80ºC that protects cannabis oil from degrading and avoids terpene evaporation and oxidation.
Vape-Jet 4.0 filling machine possesses customized profiles to effortlessly switch between product types and can be transferred to other Vape-Jet filling machines.
The filling machine can be cleaned without disassembly.
Vape-Jet offers the industry leading product support, which includes:
-Proactive Support 
Vape-Jet's technical team manages all Vape-Jet machine in the field, reviews data and analyzes configurations to provide guidance on optimizing performance.
-Remote Access for Installations & Troubleshooting
Each Vape-Jet 4.0 cartridge filling machine is embedded with an internal overview camera to conduct remote training, showcase real-time operation data, and other supports from the machine engineers.
-One-year warranty and same-day business support with a 15-minute response time.
Purchasing Vape-Jet's filling and capping machines are proven to be more cost-effective compared to an all-in-one capping a filling machine as it may create workflow bottlenecks. In fact, multiple Vape-Jet filling machines and a capping machine is enough to reduce labor cost and save budget for the costly all-in-one machine.
2. CDA Filling and Labeling Service 

2.1 General Information
CDA has been manufacturing automated and semi-automated filling and labeling machines as well as completed packing lines that have served different industries. CDA's machines are well-known for their reliability, user-friendliness, durability, and value for money.
Year of establishment: 1991
Location: Richmond, United States
Plant location: Narbonne
Number of clients: 7,000
Number of employees: 130
2.2 Products
2.2.1 K-One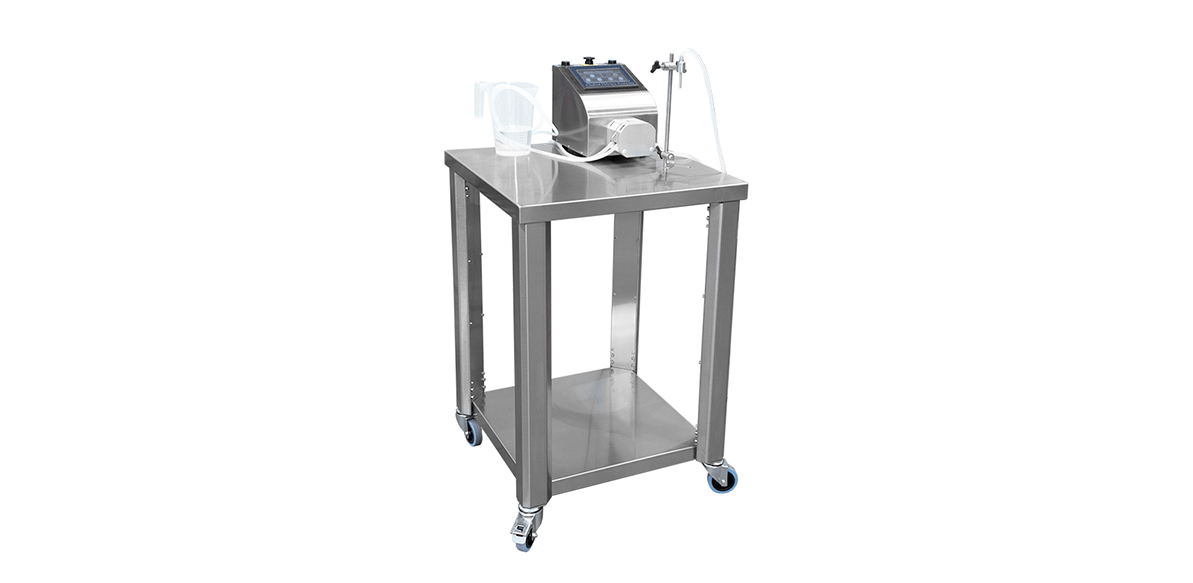 A semi-automated filling machine designed for high precision and versatility.
Possess peristaltic technology that allows the pump to not be in contact with the cannabis oil. As a result, the cannabis vaporizer manufacturer can have a reduced cleaning time and the chance of cross-contamination between products.
Suitable for processing ingestible products, including cannabis oil.
Touch screen control panel for rapid modification and process visualization.
2.2.2 Piston Cart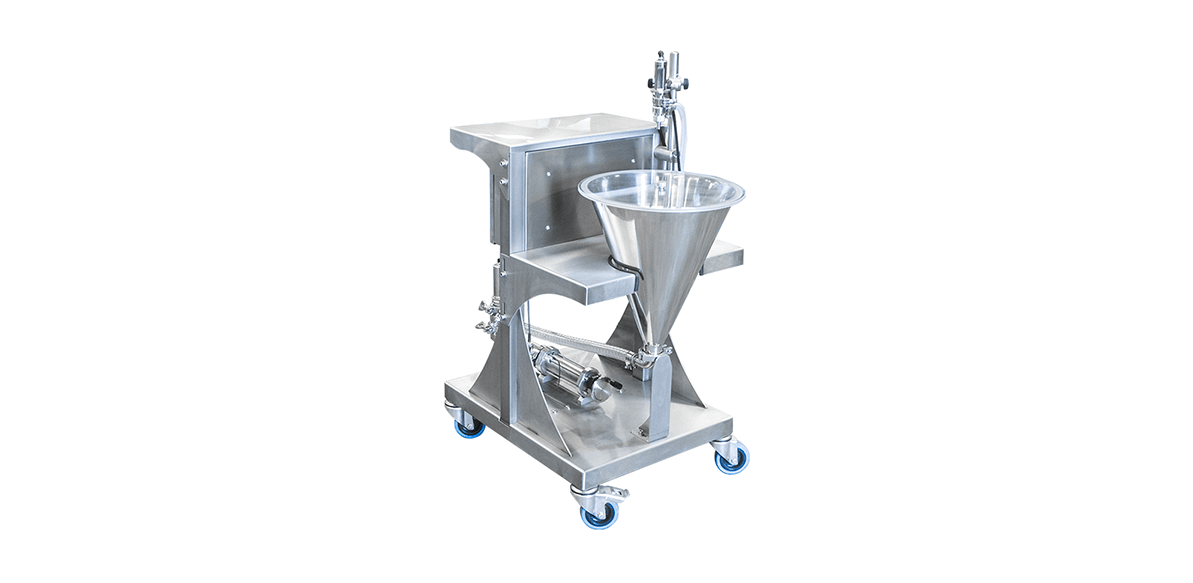 The pump is utilized for products with a high viscosity.
The output of up to 50 product fills per minute, and varied depending on the size of the products.
Feature high dosing accuracy suitable to handle food and cosmetic products.
2.2.3 K-Net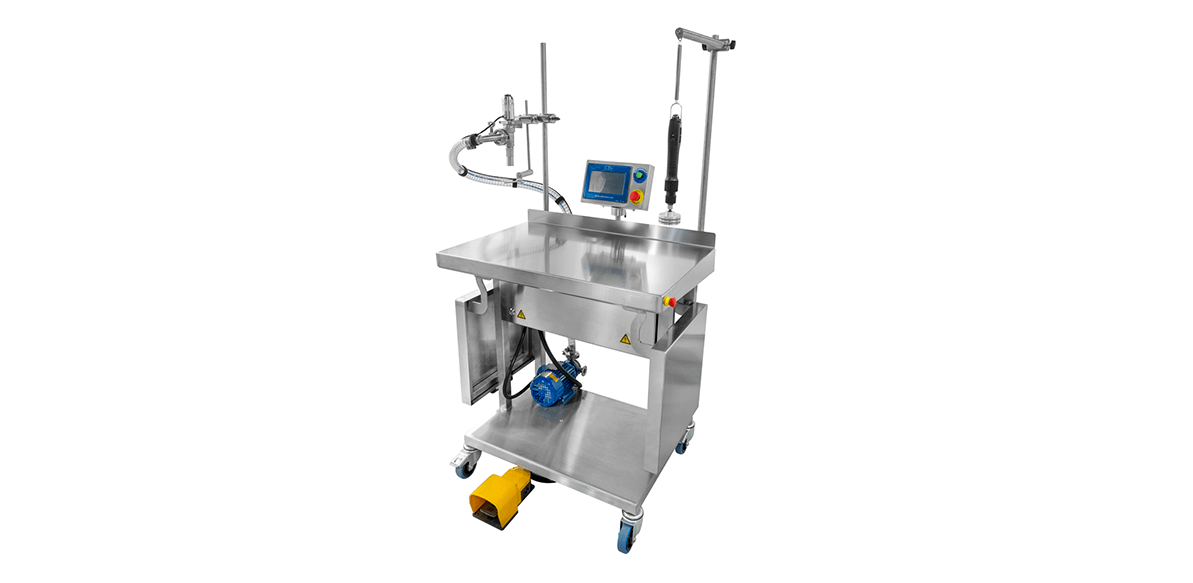 A two-in-one semi-automatic filling and capping machine.
Achieve product filling accuracy of up +/- 0.5%
Output per hour is 600 product fills
User-friendly operation and high precision.
2.2.4 K-Net Auto

A fully automated filling and screw-capping machine to process edibles (including cannabis oil), cosmetics, paint, and chemicals.
Output per hour is 1,200 cartridges.
Equipped with an intuitive touch screen as its control panel.
2.2.5 K-Line S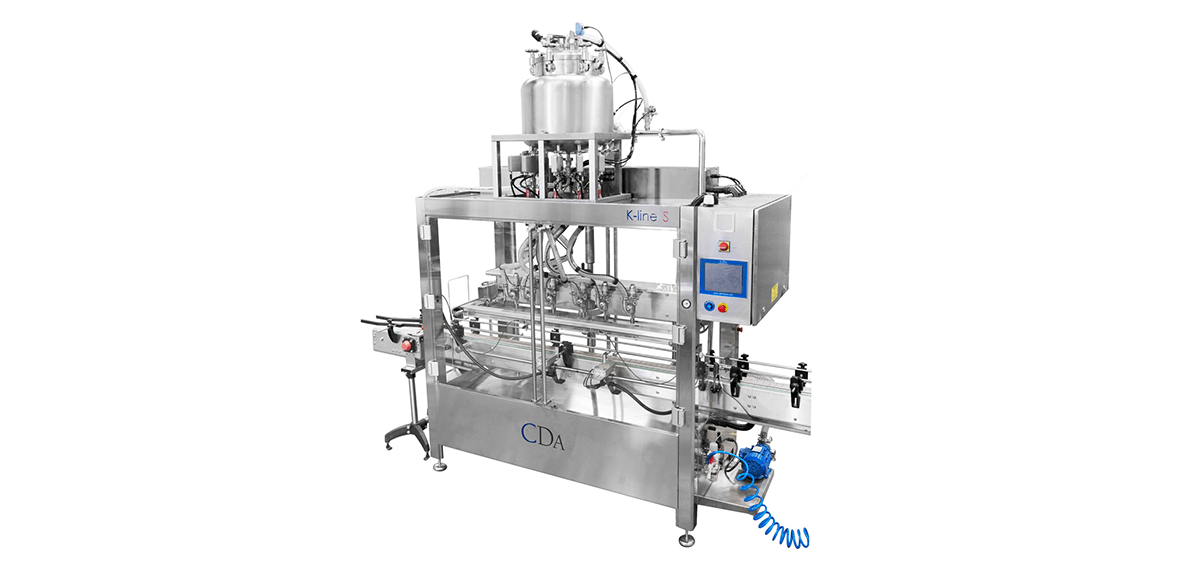 An automated filling machine with self-cleaning technology via a pressurized tank.
The machine can be attached with 2 to 6 nozzles to accommodate for higher-scale production.
Output per hour is 3,000 liters of product fill.
Constructed with 304L stainless steel.
2.3 CDA Unique selling points
CDA produces automated and semi-automated capping and filling machines to allow customers to conduct small, medium, and large-scale productions.
CDA offers an option to order made-to-order filling, capping, and packing machines specially customized for your production lines.
End-to-end services, including installation, after-sales service, and product guarantee.
CDA has a great portfolio by partnering up with businesses from a wide range of industries, including the food & beverage industry, paint, chemicals, e-cigarettes, cosmetics, and even CBD (cannabidiol) oil.
3. Cooljarz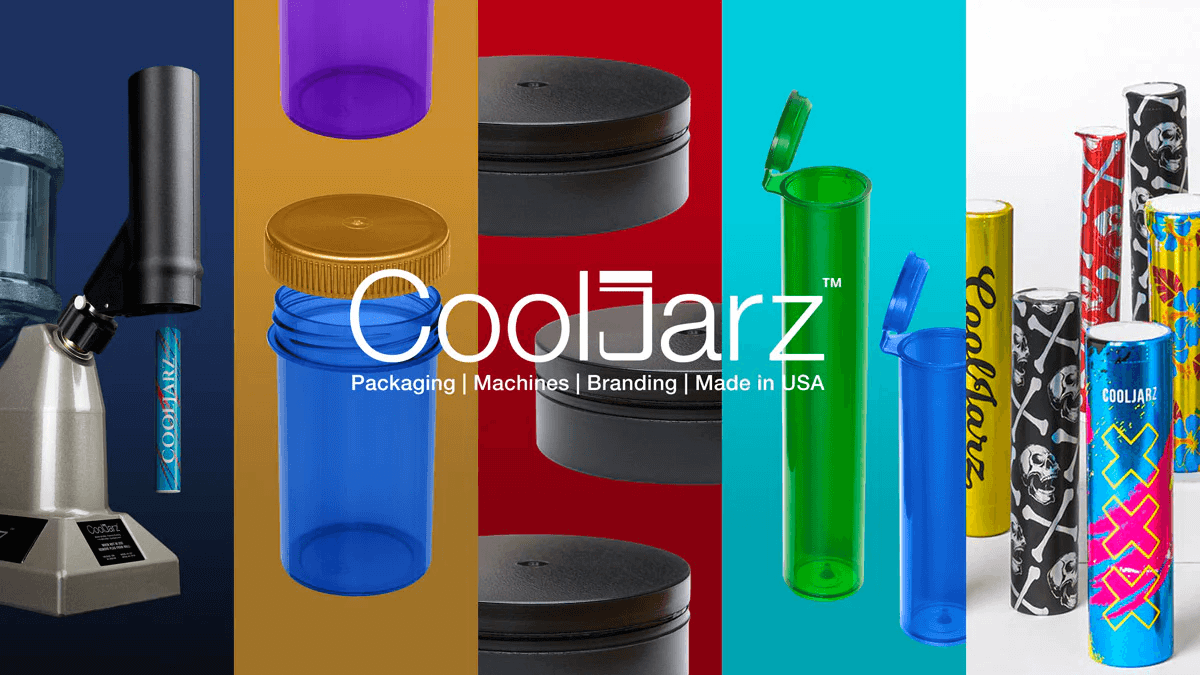 3.1 General Information
The first American cannabis packaging and product filling machine manufacturer that has distributed over 200 exclusive cannabis packaging products, including child-safe ones. Being in the injection industry for years, Cooljarz has also been specializing in manufacturing cannabis cartridge filling machines.
Year of establishment: 1999
Location: Tustin, California
Company size: 1-10 employees
3.2 Products
3.2.1 A10-Hotshot 750 & 1500 Cannabis Vape Device's Cartridge Filling Machine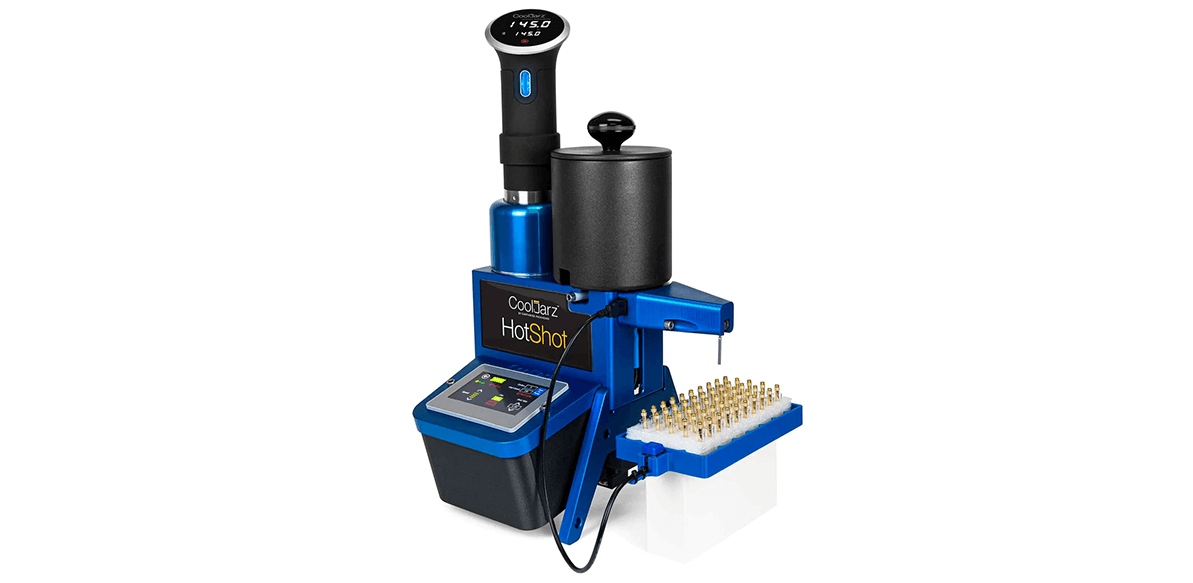 Multi-fill system that has an output of 6,000 cartridges in 8 hours.
Possess an ultra-high-speed processor and controllable heat setting.
The machine can dispense 0.33 grams to 1 gram of cannabis oil.
Works to fill 510-threaded cartridges and other cartridges with a similar design.
Featuring technology that can process cannabis oil from light to medium viscosity (a consistency of olive oil to glycerine).
Two versions of this machine are 750 and 1500. The difference between these machine types is that the 1500 one has more processing power because it can inject highly-viscous cannabis oil (the consistency of honey).
3.2.2 A-10 Filler Precision Cartridge Filling Machine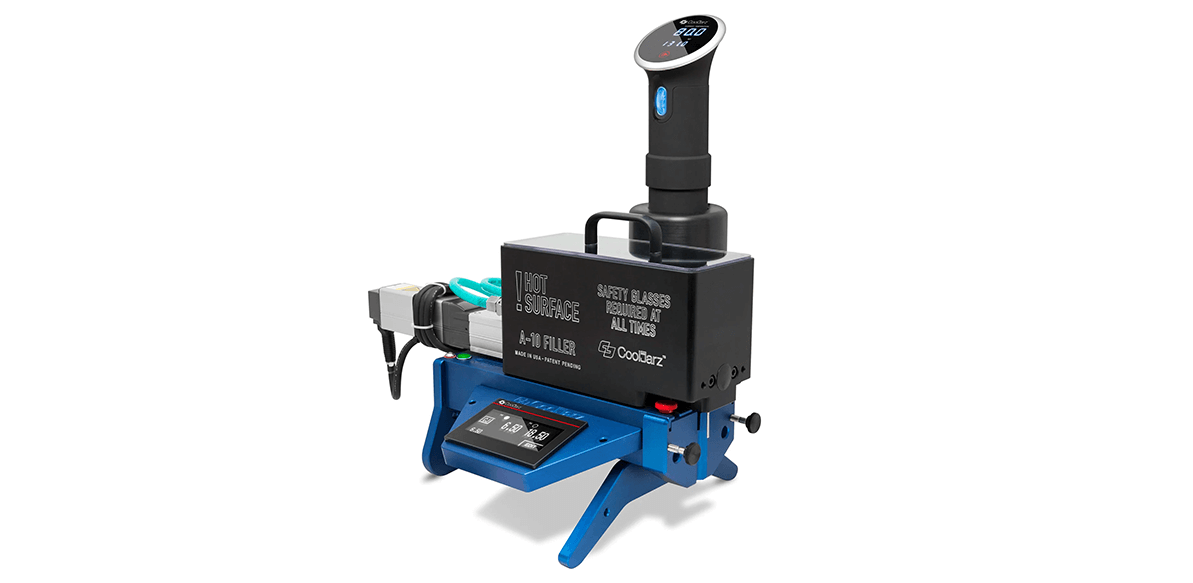 Constructed with an Aircraft 6061 aluminum alloy.
Accommodate small to large-scale production from 50 ml to 950 ml.
Contain precision step motor with a product filling accuracy of .02 ml/ .02 gram.
Feature a touch-screen control panel to choose shot size from .02 ml to 1.10 ml.
Possess a waste-free cannabis oil tray that is set up to minimize the cannabis oil wetted surfaces to minimum.
Utilize a displacement piston that can withstand high temperatures and has a food-grade certification.
3.3 Cooljarz Unique selling points
Cooljarz offers a systemized warranty: 6 months on the aluminum component, 6 months on electronics, and 2 months on piston seal replacement.
The cannabis oil filling machine comes in a compact size, which doesn't require a large working area.
The machine does not need any air compressor or extra heater, which translates to minimizing the deterioration of cannabis oil quality.
The filling machine is fully optimized to handle different levels of viscosity.
4. Convectium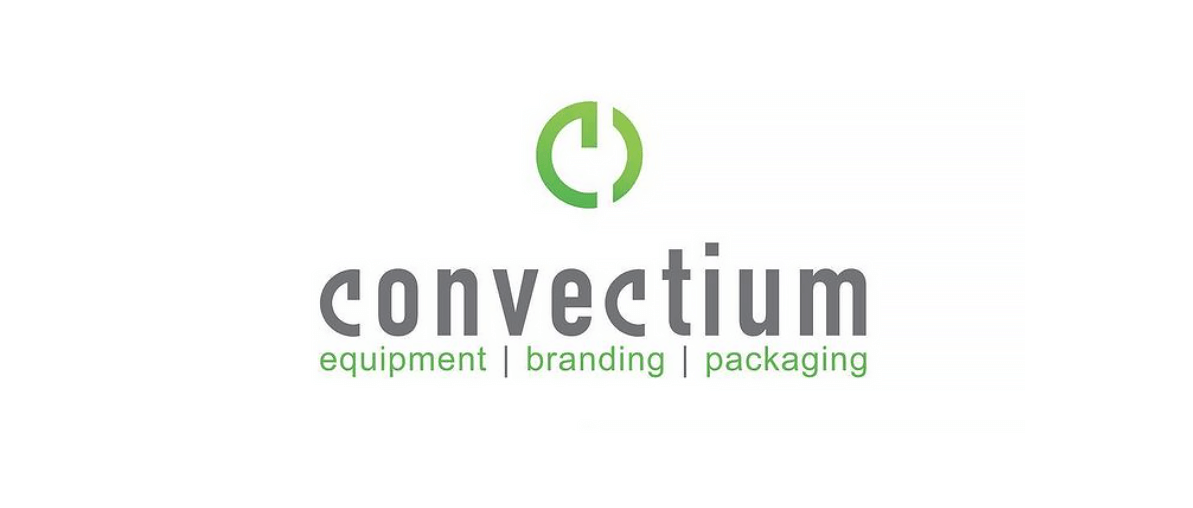 4.1 General Information
Convectium specializes in improving the efficiency of cannabis post-harvest and extraction activities. Renowned as the first American-designed filling and capping machines, Convectium can help automate the overall production workflow. Not to mention, they also produced a sophisticated pre-roller machine that can help reduce labor costs.
Year of establishment: 2013
Location: Newport Beach, California
Company size: 11-50 employees
Award: Top 10 Equipment & Supply Company by green Entrepreneur
4.2 Products
4.2.1 710 Shark Filling Machine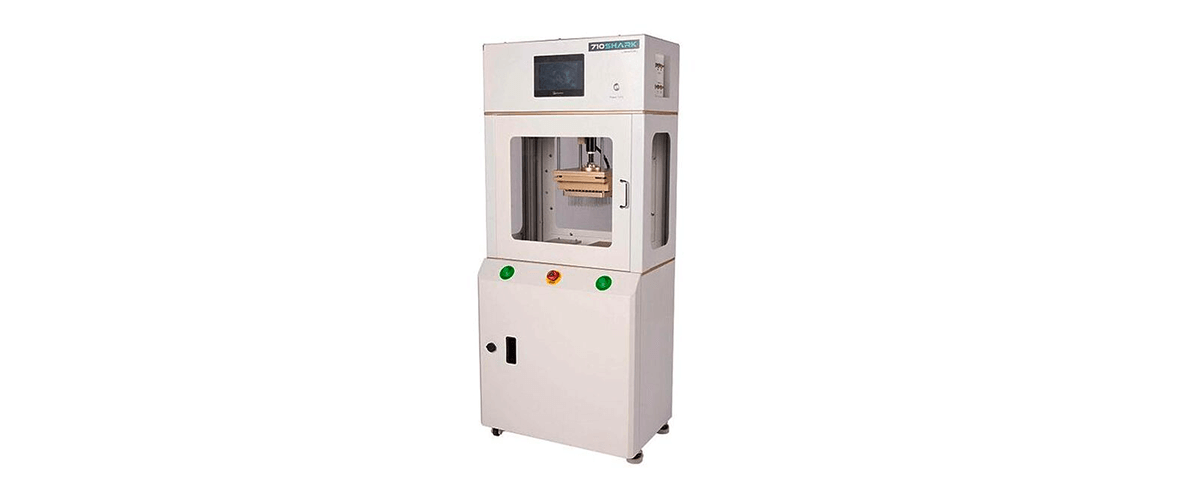 The output per minute is 100 cartridges for cannabis oil with any viscosity level.
Optimized for different cartridges material, including plastic, ceramic, and stainless steel. It also can fill disposable cartridges.
Feature a dual heated injection system with a temperature up to 125°C, suitable to handle high-viscosity cannabis oil.
The product filling range is 0.1ml – 3ml.
Some of the notable components are:
This component protects the cannabis oil that is being processed and helps regulate the heat inside the system.
The needles that pump oil to the cartridges are housed in a needle plate. Therefore, they can be switched halfway through the filling process, which prevents potential leaks on the top part of the needle.
High-quality air cylinder
A premium air cylinder creates a smoother movement of the machine that hinders any cannabis oil loss during the filling process because of the sudden vibration.
Clean oil basin and channel tray
This component allows for a more hygiene filling process. It also removed any drip during the change of cartridges.
CaptainH100 Capping Machine
The output is 100 cartridges in 30 seconds.
This machine is designed for lower-pressure cartridges.
Utilize plug and play system without any calibration needed.
The system follows a two-step process, which is mouthpiece alignment and assembly.
4.3 Convectium Unique selling points
-Convectium offers a 1 year of full warranty, including components and on-site labor provision. The customers also can negotiate for an extended warranty.
-A typical operator can expect to fill and cap up to 6,000 cartridges in an hour with Convectium's machines.
-Convectium provides a consultation service for their customers, encompassing product formulation, production SOP, full-service branding, and optimization of fill-to-cap time.
-Partner with an award-winning co-packing manufacturer, Bear Flag, specializing in cannabis products, such as pre-rolls, cartridges, and tinctures.
Choose Your Cannabis Oil Filling Manufacturing Partner Tactfully
Now that we know there are plenty of cannabis oil filling machine providers in the market, a cannabis vaporizer business owners can begin with identifying their needs, production scale, and also budget to determine which provider is the most suitable for their capacity. This report is made for the cannabis vaporizer to weight the value of each provider before making any decision.